People have been shopping in-store for ages. Over time a lot has changed. From the assortment of products to the technique used to promote those products. Shoppers' demands and needs also altered over the years. Nowadays, customers are not shopping in-store just for the products, they are doing it to take advantage of the whole shopping experience. 
In this article, we are going to talk about digital signage. Discover how this technology can help you promote your products in a creative way and see which type of digital signage is best for your business. 
What is digital signage?
Let's start with the basics. What is digital signage? Digital signage is a type of display technology used for promotional or informational purposes. This type of digital display is a major asset for retailers and brands that want to promote their products in-store. It incorporates digital elements with physical ones, leading to a phygital experience. 
Why is digital signage important?
Digital signage is one of the best retail technologies for in-store marketing and advertising. Along with robotic POP displays, digital signage offers you the possibility to create unique, creative campaigns with a touch of innovation. 
Shoppers use technology in their day-to-day activities and consume hundreds of pieces of content in a few minutes. Digital signage provides the right medium to share those pieces of content in-store, directly to the end consumers. 
Also, digital signage helps you bring your online efforts into the store so that customers can experience both the digital and in-store shopping experience. Unlike traditional cardboard displays, some digital signage is also interactive, which leads to higher customer engagement. 
Types of digital signage
Digital signage comes in many shapes, sizes, and forms. While some are able to display static images, others can showcase promotional videos or even interactive games. They have a major impact on customer experience and satisfaction. Also, digital signage can have a great impact on sales. 
Here are the different types of digital signage: 
Digital displays
Source
Digital displays are one of the most common types of digital signage. These displays have been used in-store to showcase products. They can have a great impact on foot traffic because they can be placed in the windows of shops to attract more customers. 
Some of these displays can only showcase static images, while others can display videos and other media. 
Self-checkout kiosks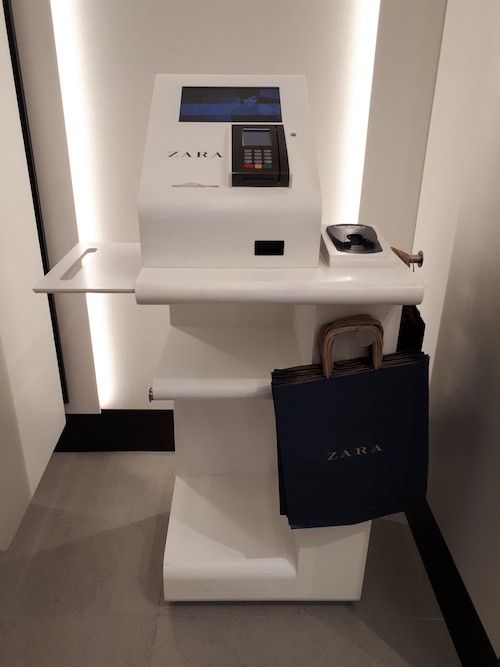 Source
Self-checkout is a major asset for stores nowadays. It helps them avoid queues at the checkout and allows customers to shop faster. Self-checkout is also more cost-effective and allows stores to be open 24/7. 
Smart mirrors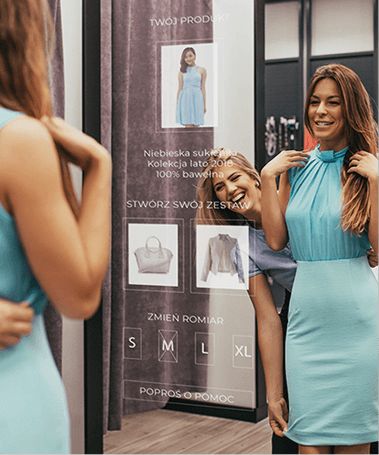 Source
Smart mirrors are ideal tools for fashion or clothes retailers. Instead of trying out tens of products and getting frustrated, customers can try out products with a simple click. Smart mirrors can also be used in make-up stores. Apart from showing how the clothes or make-up might look on them, smart mirrors can also provide assistance in-store by showing if a product is available in your size. 
Interactive screens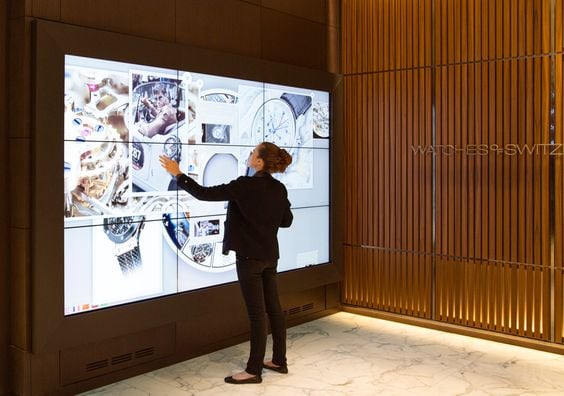 Source
Last, but definitely not least, interactive screens are great assets for those who want to engage shoppers in-store. Depending on the types of products you want to promote, you can create campaigns with the help of interactive displays. Customers will be able to try out a game or see your products in action.
How to choose the right digital signage
Ready to try out digital signage for your store or products? Here's what to consider before deciding which type of digital signage is right for you. 
Budget
How much money can you invest in digital signage? This is something you should take into account because each type of digital signage comes with its own cost. If you are just looking for a bit of innovation for a tight budget, you might want to consider digital displays. If you are ready to invest more, self-checkout and smart mirrors are great additions to your store. 
Brand alignment
Of course, you need to find a type of product that aligns with your brand. For example, a clothes store might not be interested in investing in digital displays or self-checkout, while a supermarket might not consider smart mirrors. 
Customer interaction
Your audience is also something you need to keep in mind before trying out a type of digital signage. If your audience consists of young, digital-native shoppers, then smart mirrors and interactive displays are necessary. For an older audience, big digital displays with static images that show your current promotions might do the trick. 
Digital signage ideas for grocery marketing
You might be inclined to think that only retailers that sell make-up and clothes are interested in investing in digital signage. Well, for every retail category there's a digital signage solution that might be helpful. Here are a few digital signage ideas for grocery stores and supermarkets. 
Display recipes 
What are we having for dinner? This is one of the questions people around the world dread. It's hard to come up with fast, cost-effective, and delicious recipes on a daily basis. With a digital display, you can showcase great recipes with products from your store. Shoppers are already in-store so they are prepared to make a purchase and by showing a recipe you make it easier for them to choose. 
Provide user-generated content
User-generated content is an amazing asset for every brand or store. You can use digital displays to highlight UGC. Digital displays allow you to connect the in-store with the online environment. For instance, you can display social media posts where your brand has been tagged.
Don't forget about videos and reels as people tend to enjoy this type of content more. 90% of buyers find videos played on a screen helpful in making their purchase decisions. As you can see, videos can have a major impact on sales in-store. 
Self-checkout for fresh products
When customers shop in grocery stores they have a grab-and-go approach. That's why self-checkout is an amazing way to increase customer satisfaction. People buy what they want and are able to move at their own pace, without having to wait at the cashier. Plus, there is a certain satisfaction in scanning the products on your own, right?
Use digital signage in store
Digital signage is an innovative retail marketing solution that will help you attract customers, and increase customer satisfaction and sales. Find the right type of digital signage for your store or brand and create unique campaigns that will delight shoppers in-store.