Going to second-hand and vintage stores is one of my favourite ways to shop! It's the best way for me to find special and one-of-a-kind pieces! In every city I go to, you'll find me at the back of vintage stores and going through everything carefully. Though, if you're short on time or you don't fancy leaving your bed, online marketplaces like Etsy and Vestiaire Collective will be ideal for you! Here are my favourite items that I love getting vintage instead of from a brand!
Coats & Motocycle Jackets
When I hit up a vintage store the first place that I go to is the coat section! I'm not sure why, but you can't go wrong with vintage coats. Usually they are good quality and it's easier to find oversized styles or something more unique. One of my ultimate best ever purchases was this motorcycle jacket from a flea market in Paris!! There's not a day when I wear this that I'm not met with so many compliments!
Those of you who've seen my Paris vlog (here's a link if you haven't), would have seen me try on the most amazing vintage coat. The vintage selection in Paris so good, though New York also has many good spots. Besides, with the rise of vintage fashion, there's more and more great online second-hand stores to choose from!
Below is a curation of my favourite vintage coats I've found online.
Accessories
Vintage accessories should not be overlooked! Of course, the popularity of vintage jewelry and bags are already well known! But, I'm also talking about hats and belts – (like this one I got from Paris in the video!!)
Accessories like hats and belts are the easier option – and also I actually prefer to get them vintage. The craftsmanship and quality is always there.
Especially with the rise of Y2k, vintage bags are one of the hottest items. Though sometimes it's difficult to know if you actually like the bag style or if it's just trendy. AND, if you're going for a luxury brand there can be the mess of authentication. BUT, here are two sites that is ideal if you're looking for a vintage bag that has been authenticated : Rebag and Vestiare Collective. Nowadays, shopping vintage accessories has just gotten easier (and safer!) Below are some of my favourites.
Cowboy Boots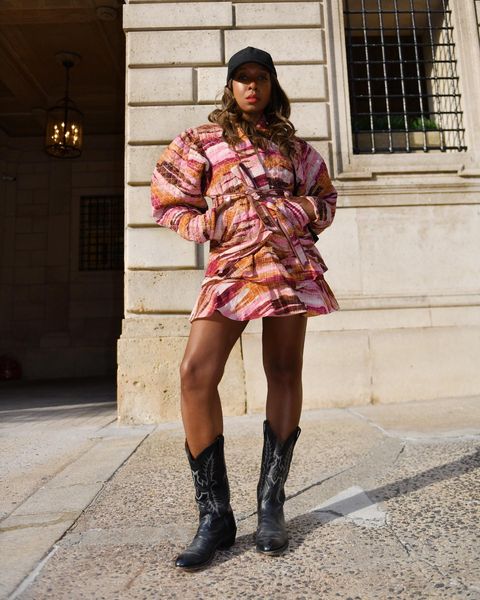 Buying shoes second-hand or vintage is not very popular. Shoes are in general more fragile just because of the nature of their use. And even if you find one that has been worn gently, the chances of finding your size especially if you're size 41 (EU) is very slim. That being said, cowboy boots are one of the very few exceptions. Because they're made from leather and their boot shapes are simple, they're sturdier than your vintage heels. But that's not the reason why getting cowboy boots vintage is the better option. THE design! Often vintage cowboy boots will have the most gorgeously intricate designs that are carved/embossed in the leather.
The leather work and attention to detail is on another level to your typical mass produced version. Besides, some times such as cowboy boots are intended to have that rustic vibe. So getting them vintage will get you that aesthetic. There are very few companies that make a cowboy boot the same way how I love vintage ones (- black owned Brother Vellies is one of those exceptions.) Generally, because of the price, getting the vintage versions is still the better choice.