Today, legendary streetwear designer Nigo made his debut for Kenzo, the fashion house founded in 1970 by Kenzo Takada (which happens to be the very same year that Nigo was born in Maebashi, Japan). More than 50 years on from then, his first show took place in the same mosaic-floored, nineteenth-century arcade where Mr Takada opened his original Paris shop, Jungle Jap, the Galerie Vivienne. His arrival signals a shift in the ranks of LVMH — but also luxury fashion in general — that has seen the ringleaders of streetwear subculture take the reins of Paris couture culture. Streetwear is a very loaded word, especially in the haughty salons of Paris, where it's often been said with a sneer that implies "not French, not White". But Kenzo has been rooted in street-to-shop ready-to-wear since the very beginning — and it goes without saying that it's also one of the few French fashion houses founded by a person of colour, part of a generation of trailblazers including Comme des Garçons and Yohji Yamamoto. 
As the polymathic founder of A Bathing Ape, and co-founder of Human Made and Billionaire Boys Club (he is also a member of Japanese music collective Teriyaki Boyz and owns a records label in Tokyo) — Nigo is a true streetwear pioneer. We'll spare you the full family tree — though rest assured that the branches are far-reaching — but without Nigo, fashion and music and culture would look very different to what it does today. There would be no Pharrell or Kanye West as the style icons we know them as today, and therefore no Tyler, the Creator (all of whom were in attendance to show their support and respect); there would be no Virgil Abloh, who Nigo first introduced to Silvia Venturini Fendi, a meeting that resulted in him interning at the Roman house with Ye, and the rest is history. 
Without Nigo, there would be no Kim Jones, who first discovered the Japanese designer's work decades ago, and sought to infuse that streetwear sensibility into his catwalk collections. No $500 T-shirts and sneakers in luxury boutiques. And of course, without Nigo, there would be no media outlets like Hypebeast or Highsnobiety, or retail platforms like Grailed. If Hiroshi Fujiwara is the founding father of modern streetwear, Nigo is the godfather of it for generations of musicians, designers, brands and kids who still aspire to be a part of the coolest community of style-obsessed dandies. 
What made him so influential is that, like so many of his generation, he looked to the shifting styles of Americana and essentially did it better in Japan. There was always a link there because of the postwar relations between the two nations, which resulted in indigo denim, varsity jackets, and American sportswear and workwear forming the backbone of Japanese streetwear – "1950s seen through the lens of the 1980s – but shot in 2022," as Pharrell put it before the show. In the late 90s, that resonated with a generation of American Hip-Hop artists who were starting their own skate-inspired fashion lines, looking to Tokyo for the freshest looks. Pharrell even cast Nigo in his seminal 2003 music video for Frontin'! 
His first collection was a celebration of Kenzo's legacy, albeit through his own obsessions with American workwear, English tailoring and Ivy league-style varsity jackets, some of which were emblazoned with Kenzo Takada's original sketches from the 1970s. Floral prints borrowed from the archive, included the poppies that became a signature (it's the leitmotif for Flower, Kenzo's best-selling fragrance), appeared throughout, while the house's famous tiger insignia, which previous creative directors Humberto Leon and Carol Lim made the star of their iconic sweatshirts, was reinvented as patches on gloves, roaring cartoons, knitted kidcore scarves and multi-coloured faux fur trims. 
The soundtrack was taken from the designer's upcoming album I Know Nigo with contributions from A$AP Rocky, Kid Cudi, Pharrell Williams, Pusha T, Teriyaki Boyz, Tyler, the Creator and Lil Uzi Vert. "New music, new clothes," as Benji B observed backstage. Interestingly, Nigo will be releasing the collection in limited-edition drops that come out monthly. It's a business model that he's had for years with his own labels, but it was also much closer to the way that Kenzo worked at the very beginning.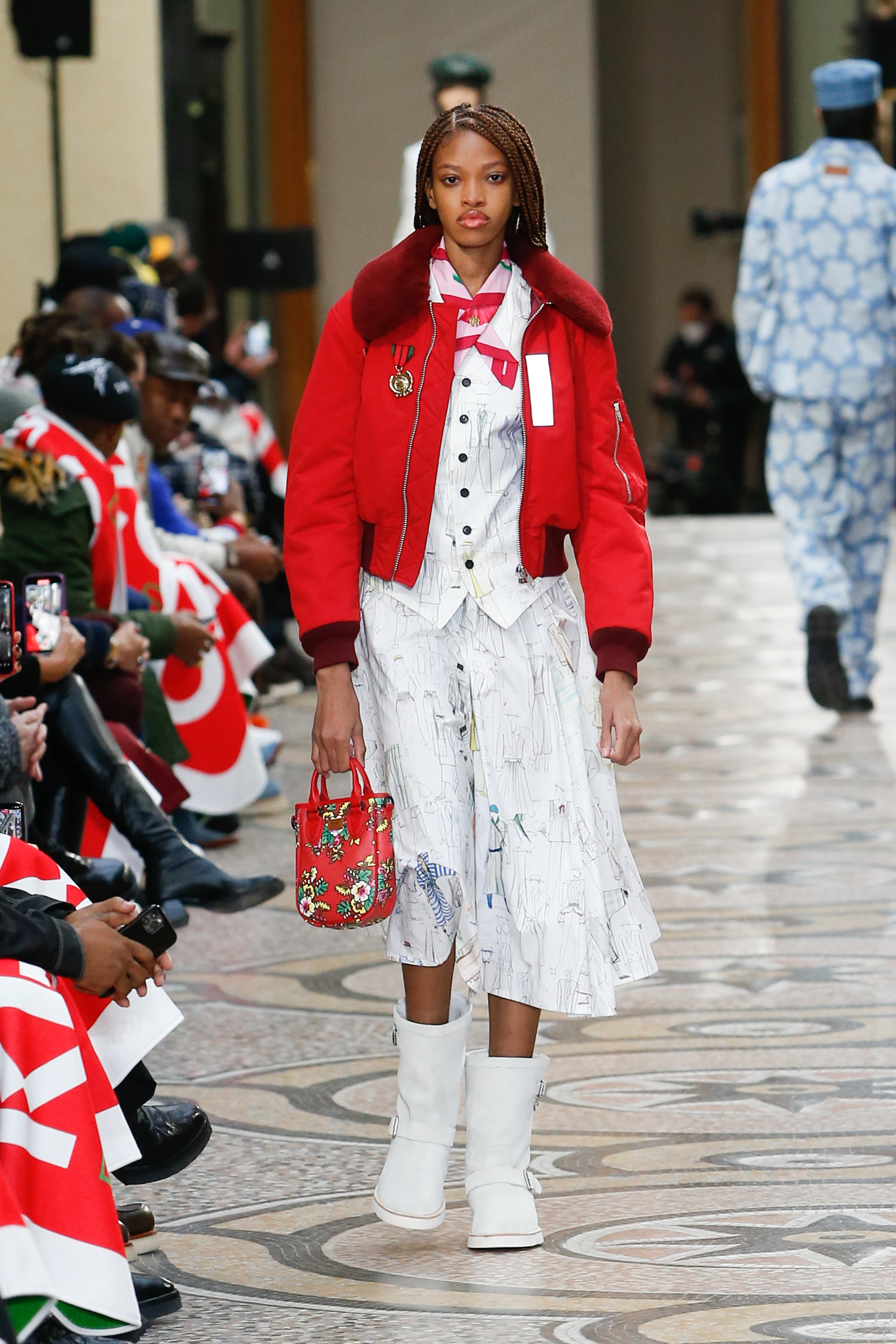 What so many would have expected of Nigo — T-shirts and baseball caps, essentially — were entirely avoided. Instead, he concentrated on bridging the gap between him and the founder with easy, simple garments — a combination of Nigo's favourite kind of clothes and Kenzo's colourful heritage. There were also cherry blossoms and kimono jackets, perhaps even in a self-referential, tongue-in-cheek way. After all, when Kenzo started his line, it was full of literal hybridisations of Japanese and French styles. He also made souvenir bomber jackets — the kind that were historically commissioned in kimono fabrics by the American occupying forces in Japan — that are reversible: the wool side features a map-of-France embroidery, while the silk side is embellished with a map of Japan.  
Indeed, his appointment signals a shift, but also a bridge, in the ranks at LVMH. Even though they never met and are from two entirely different generations with very different sets of references, Nigo and Kenzo both studied at Bunka Fashion College in Tokyo and took their designs to the rest of the world. Now, two generations of Japanese visionaries are united under one fashion house. At last!