Eggs are nutritional powerhouses and have been used in the form of egg white masks for centuries. Just one egg white contains almost 4 grams of protein and a plethora of vitamins and minerals, including calcium, magnesium, and folate [source]. And of the many proteins they contain, one called lysozyme is used in the food industry for its antibacterial properties [source].
It's these nutrients that are especially beneficial—which makes sense as they were meant for the nourishment of baby chicks! 
But before you dive in, there are two concerns with egg whites for cosmetic use; one is that raw eggs can carry the bacteria Salmonella [source]. For this reason, it is important to keep the egg white from entering your eyes or mouth, and you should always wash your hands after working with raw eggs of any type. The second thing to consider is egg allergy—though if you can eat cooked eggs, you are probably okay. If you are egg-allergic, it would be best to avoid these recipes. Instead, try these DIY oatmeal face masks.
Yes, if eggs are not a problem, there is an egg white mask for you, no matter what your skin type!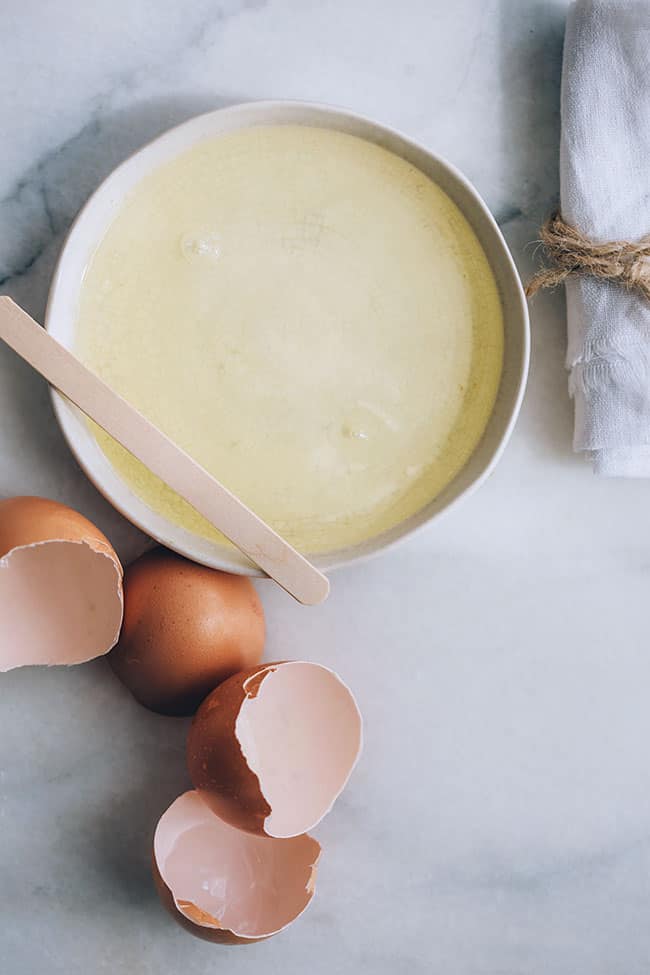 Benefits of Egg White Masks
Tightens skin. As they dry, egg whites shrink and contract, making skin feel firmer and look tighter.
Clear pores. If you have large pores or acne-prone skin, egg whites are said to help shrink pores and remove gunky buildup.
Reduce oil production. If your skin is oily, egg whites may help to clarify pores and hair follicles that make too much sebum.
Lessen the appearance of acne. Thanks to egg whites' antibacterial properties, egg white masks may help improve the appearance of acne and soothe acne-prone skin.
7 Egg White Face Mask Recipes
If you're worried about the salmonella factor when making egg white masks, you can always use pasteurized eggs, which have been treated to kill bacteria. They may not contain as many nutrients as un-pasteurized eggs, but they'll be safer to use around the mouth and eyes. 
1. Tightening Egg White Mask for Mature Skin
—1 egg white
—1 teaspoon lemon juice
—1 teaspoon raw honey
Mix ingredients together and apply to your face. Let dry for 15 to 20 minutes and rinse with warm water. As the egg whites dry, this firming face mask tones your face and plumps the skin. Meanwhile, the lemon lightens age spots and the honey kills bacteria.
2. Nourishing Grapeseed Face Mask
Combine the grapes and the egg white in a blender, and blend until completely smooth. This will crush the seeds, which contain nourishing grapeseed oil.
Once the mixture becomes frothy, use a facial brush to apply the egg white facial mask to your face and neck in upward strokes. Leave on for 15 minutes, then rinse thoroughly and follow up with your regular moisturizer.
3. Soothing Egg & Chamomile Mask for Sensitive Skin
—1 egg white
—1 teaspoon aloe vera gel
—1 teaspoon chamomile tea, brewed
Combine ingredients in a small bowl and whisk well. Apply to clean skin and let dry for 20 minutes before rinsing with cool water. The aloe vera gel and chamomile tea soothe inflammation and redness.
Note: Do not use this mask on sunburned skin. Use it only on normal skin with areas of slight irritation or heat-induced inflammation.
4. Anti-Aging Egg White Eye Mask
—1 egg white
—1 tablespoon finely grated carrot (not a baby carrot, regular carrots contain more nutrients)
—1 teaspoon aloe vera
Combine egg white, carrot, and aloe vera in a small bowl. Beat the mixture together with a fork until frothy (about 1 minute).
With clean hands or a brush, apply the egg white eye mask around and under the eyes. Avoid the eyelids because you don't want to get it in your eyes. You can also apply the mask to your entire face if desired.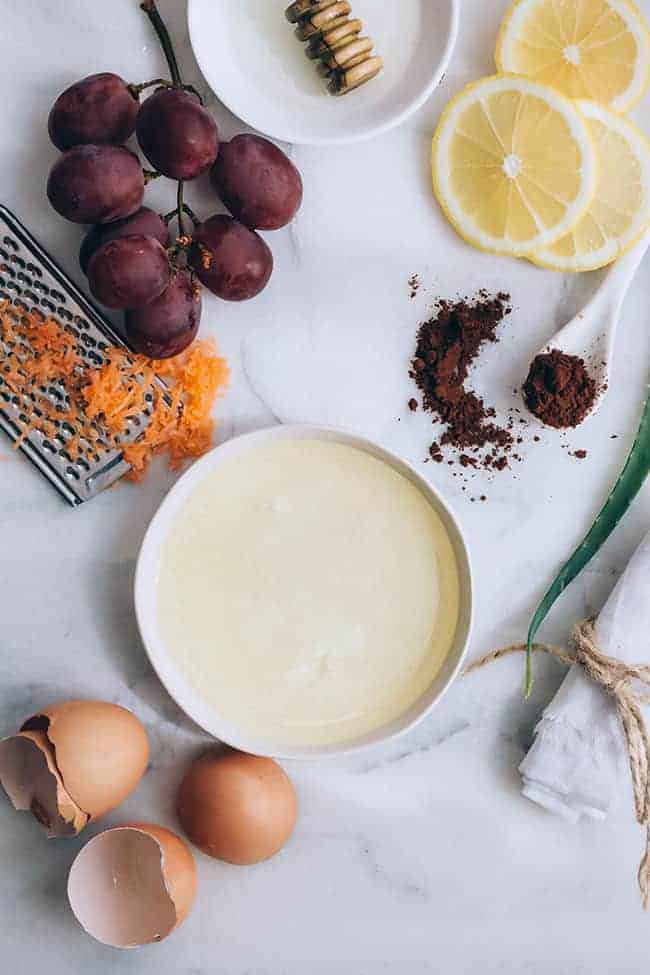 5. De-Puffing Eye Mask
—1 egg white
—2 teaspoons coffee grounds (unused grounds are best because they contain the most caffeine, but used grounds are fine if the coffee has just been made)
Combine the egg white and coffee in a small bowl. Beat the mixture together with a fork until frothy, about 1 minute. With clean hands or a brush, apply the mask around and under the eyes. Avoid the eyelids because you don't want to get it in your eyes. You can apply the mask to your entire face if desired.
Let the mask dry for 10 minutes. You will definitely feel this DIY coffee mask tightening your skin! If it gets uncomfortable, go ahead and remove it before the 10 minutes are up. Use a soft, wet towel to gently clean off the mask. Finish with your usual moisturizer. Discard any unused mask.
6. Exfoliating Face Mask for Oily Skin
—1 egg white
—1 teaspoon raw honey
—Ground oats or flour
Whip together the egg white and honey until well combined and a bit frothy. Add ground oats or flour until you have a paste.
Apply it to your face, avoiding the eyes, and massage it gently into the skin. Leave the mask on for 10 minutes and remove with warm water.
7. Pore Cleansing Egg White Mask
—1 egg white
—1 tablespoon white sugar
—2 teaspoons corn starch
Mix ingredients together and apply to your face. Let it dry for 15 to 20 minutes, then peel off the mask really slowly. Rinse with warm water.
The egg white will nourish and tighten the skin on your face for a younger appearance, while the extra-fine sugar will exfoliate your pores, and the cornstarch will absorb any dirt and grime. Afterward, apply aloe vera to any sensitive areas.
Leftover mask can be stored in the refrigerator for up to 24 hours. 
Other Ingredients Perfect for Egg White Masks
Looking to spice things up? Here are some things you can add to your egg white face masks for extra nutrients and skin-soothing benefits:
—Bee pollen
—Avocado
—Yogurt
—Coconut milk powder
—Papaya
—Matcha
—Turmeric
—Rose water
—Bentonite clay
Egg White Face Mask FAQs
Can I apply egg white on my face everyday?
According to the pros, once a week is safe. While you can always adjust the frequency and see how your skin responds, using a mask too often may dry out your skin or cause irritation. As always, if you notice redness, itchiness, or peeling, cut back on the frequency, and give your skin plenty of time to recover.
How long do I leave egg white on my face?
To reap the benefits of an egg white mask, you want to leave the mask on for anywhere between 15 and 20 minutes. That's enough time to let the nutrients sink in but not so much time that it dries out skin and causes irritation.
When should I use an egg white mask?
It's best to apply an egg white mask to freshly washed skin. After you wash it off, you should carry on with the remainder of your usual skincare routine. 
Can an egg white mask remove blackheads?
To target blackheads specifically, it helps if you use paper towels or tissues to make DIY pore strips, which gives the mask (and the blackheads) something to grab onto. Whip 1 egg white in a small bowl without any additional ingredients, and apply it to your face. Place a strip of paper towel over your nose, chin, or any other areas you see blackheads. Then apply another layer of egg white mask on top. Let dry for about 30 minutes before peeling off.
If you're looking for more blackhead busting masks, here are 5 DIY blackhead masks that unclog pores like magic.
Is it safe to use egg whites around the eyes?
Yes! But like with any beauty products, natural or otherwise, be careful not to get any of the mask in your eyes. When it's time to remove the mask, splash with cool water or use a wet washcloth to gently wipe it off. Be sure not to tug on under-eye skin, or you could make matters worse.
Are egg whites really good for acne?
Supposedly, the vitamins, minerals, and protein in egg whites help soothe skin, which may lessen the appearance of acne. They also help control sebum production and shrink pores, cutting down on bacteria. 
More Face Mask Recipes You Might Love
We have a thing for face masks around here (you, too?) Here are some more of our favorite recipes:
5 Hydrating Face Masks We Love
8 Detoxifying Charcoal Face Masks to Purify Skin
2 DIY Face Masks to Treat Acne Scars and Inflammation
5 Natural AHA Face Masks You Can Make At Home
8 Under Eye Masks that Will Solve All Your Problems
This post was medically reviewed by Dr. Jennifer Haley, a board-certified dermatologist with extensive experience in medical, cosmetic, and surgical dermatology. Learn more about Hello Glow's medical reviewers here. As always, this is not personal medical advice, and we recommend that you talk with your doctor.